APM Map 🗺️ Issue #6: On Product Design questions & designing products for social good
APM Map Interview Prep mini-series - Product Design Interviews (Part 2 of 4)
APM Map 🗺️ is your one-stop destination for navigating your APM recruiting journey. The site is *live* at apmmap.co, and the APM Map newsletter will run weekly this fall, spotlighting incredible APM recruiting resources & mentors along the way.
In today's issue:
🧘🏻‍♀️ Mindfulness by Mima: On gratitude & growth

✨ Special: APM Map — (Product) Design for Good Challenge

🗺️ The Journey: Interview Prep > Product Design Interviews

Mima's Philosophy

Featured Resources

👩🏻‍💻 APM Map Mentor Spotlight: Katie Goldstein

Hey friends - hope you have been taking lots of care ❤️
I wanted to take a moment today to chat about gratitude, growth & giving back (and by the end of this newsletter, you'll learn how you can do all three with the power of Product Design).
This last week was a lot of firsts. We had our first ever Product Hunt launch 🚀. It was the first time that I've felt such an outpouring of love & support — from friends, family, and strangers alike. And it was also the first time that I received a scathing review about APM Map, seeking to undermine our mission: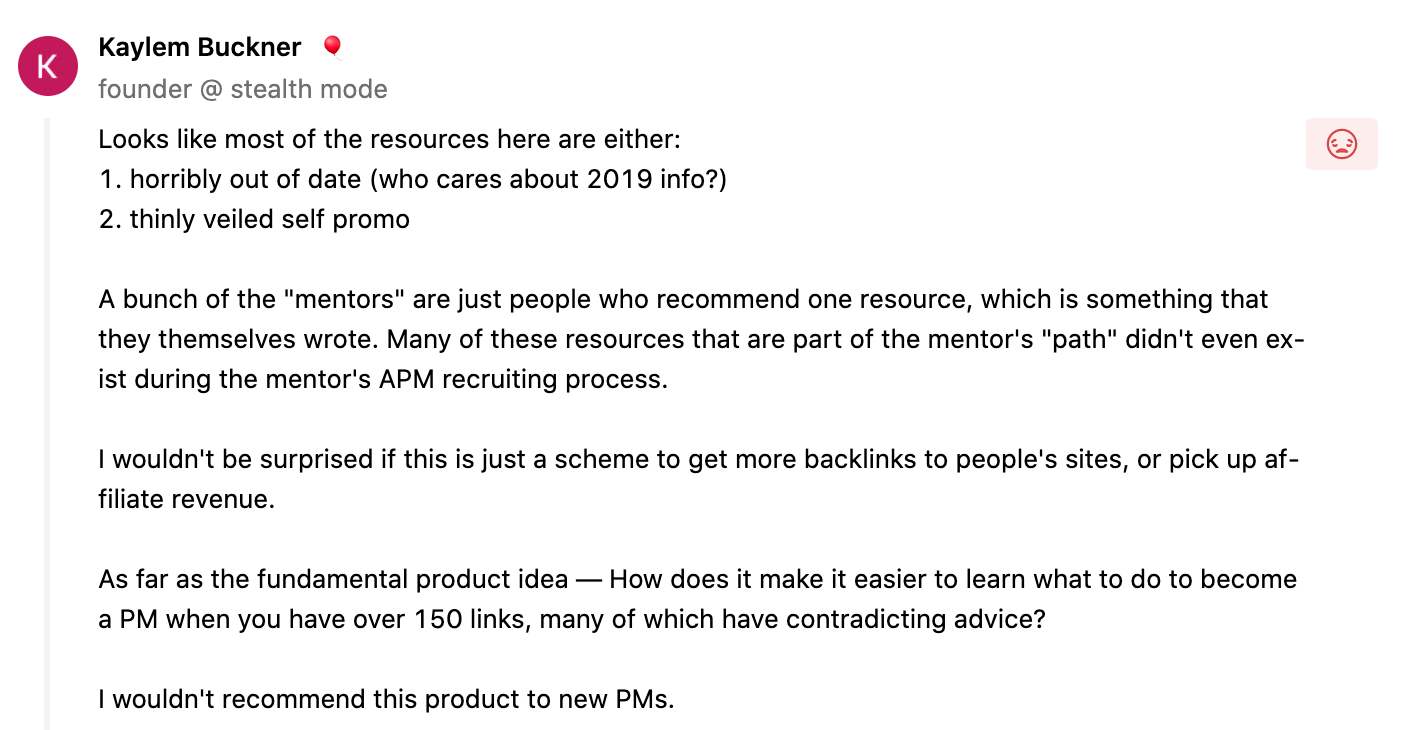 When I first read this message, I felt a mix of emotions. At first, there was shock, and a burning desire to respond with an essay to prove them wrong. Next, there was reactive anger, and an urge to figure out who wrote the review. Then, there was a deep, reflective melancholy that has stayed with me these past few days. And finally, after much reflection, I centered the negativity of the review with gratitude, and let it lead me to an opportunity for growth 🌱 .
I realized what was most upsetting about this message was that 1) it frames APM Map as greedy & profit-driven and 2) it accuses APM Map of not actually trying to help aspiring PMs. As someone who has been vocal about breaking down the financial barriers to interview prep with APM Map, as well as brutally honest about the rejections I faced while recruiting, this definitely hurt. However, with the mindset of practicing gratitude & growth, these hurtful words quickly became a source of inspiration for this idea:
✨ Special: APM Map 🗺 x (Product) Design for Good Challenge
What: As a Product Design mock interview, tell me your answer to "How would you improve APM Map?" either via email, screenshots, Marco Polo, or via a live mock interview (~5 spots). In return, by the end of the week, I will personally:
Give you feedback, à la mock interview style— all for free!

Donate $10 on your behalf to your charity of choice, up to $500 in total donations. I also have a list of organizations that I recommend donating to — DM me on Twitter if you need inspo!
When: Rolling submissions for 7 days, until next Sunday, 11/1
If there's a lot of interest in this pilot program, the APM Map team will scale this for the month of November and continue to provide Mentorship for Good ❤️
How: You can choose any of the options below to participate!
Email us at heyapmmap@gmail.com — either 1) send us 2-3 paragraphs telling us how you would improve APM Map & why, OR 2) send us screenshots of this template with your answer.

Send me a Marco Polo — send us a video of you answering "How would you improve APM Map?" via Marco Polo, and I'll respond with a video with feedback! Add me on Marco Polo here 😊

Sign up for a live mock interview with me here!
Why: to practice gratitude, growth, & give back to the APM community (and the 🌏 at large)
For APM Map: we get to learn how to best support this community that we are so grateful for and ways that APM Map can improve & grow 🌱

For you: level up your Product Design skills for free (traditional coaching services are hosted by more experienced PMs than myself, but can cost anywhere between $200-800+) & raise $$ for organizations you care about. That's what we call a win-win ✨

With this challenge, we hope that we can inspire you to practice gratitude & growth not only in your Product Design interviews, but in your life as a whole — especially in the face of failure, rejection, & negativity from others. And along the way, let's raise some $$ for organizations fighting injustice in this world ✊ and leverage product (design) for social good ❤️
🗺️ The Journey: Interview Prep > Product Design Interviews

Are you as excited for the APM Map x (Product) Design for Good challenge as we are? Amazing. Let's go over some Product Design basics to get you prepped & ready 💪
💡 Mima's Philosophy
Start with Gratitude. As per the theme of this issue, I think gratitude is a great place to start when tackling Product Design questions. Think about what the product is doing well, and where you shouldn't reinvent the wheel. Think about the product's strengths, and where you might be able to build more.

Finish with Growth. Once you've identified what the product is doing well, you can either focus on building on those strengths, or discover where the product can improve, and offer solutions accordingly. Approaching it from a place of growth as opposed to "hate" will resonate more with your interviewer, because at the end of the day, we're looking for PMs who will be team players — not PMs that will try to bring you & the product down.
📚 Featured Resources
Since everyone is at different stages of the interview process, if you need an overview of all types of interviews, you can check out APM Map's Roadmap to Recruiting 🚗 or the directory on APM Map.
Want an overview of how to approach the Product Design question, and/or learn from existing frameworks? Check out Cracking the PM Interview's 7-step process, as well as Decode & Conquer's CIRCLES framework.

I really like CTPI for its recommendations for how to approach "What is your favorite product" (generally, I would recommend having three answers to this question — and make sure one of them is a physical product) and I personally used D&C's CIRCLE framework as a foundation for my own.

Have the basic Product Design frameworks down and want to create a more unique approach? Last year, I ended up creating my own Product Design template which you are super welcome to print & use! However, I highly recommend you make your own — it will be the best reflection of your unique thinking process. Canva makes it super easy too!

Not sure how to best incorporate tradeoffs into your solutions? I love this article on how the best interviews always incorporate tradeoffs — great read if you're stuck on how to do this well!

The best way to improve your interviewing skills is via practice, aka mock interviews. Check out this question bank that APM Map Mentor Roshni recommends for questions to try in your mocks!

Curious how to approach the "What is your favorite product?" question? I recently did a collab with Stephen (CEO @ Exponent) on the Exponent YouTube channel where I provide a sample answer to this question. Would love for you to check it out :')
👩🏻‍💻 APM Map Mentor Spotlight
Each week, this section will be dedicated to spotlighting the awesome work that our APM Map mentors are doing. This week, we're so excited to feature Katie Goldstein ❤️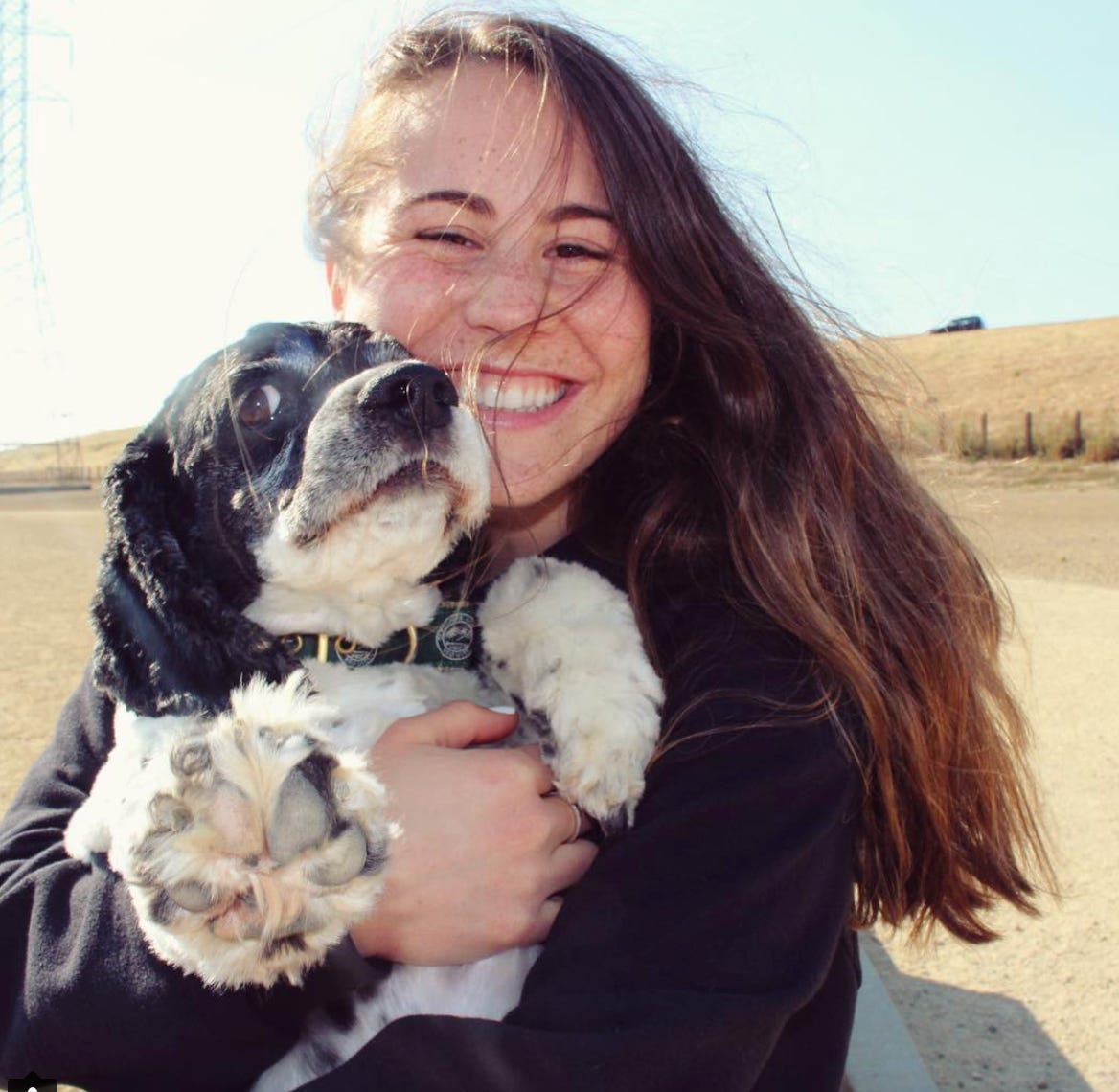 Curious about Katie's Path to PM? Check out her recommended resources for PM interview prep here 🗺️

Wondering what Katie is thinking about next?  The future of education in this virtual world, specifically in relation to the achievement gap, public school education policy, literacy, and industry investment in edtech products. If you're curious, some cool resources she's liked include "Nice White Parents" (podcast, Spotify), this McKinsey whitepaper on COVID + the achievement gap (June 2020), and Educated by Tara Westover. 

She's also in the process of writing a children's book, Ottie the Otter, about an otter who absolutely abhors the water. She hopes to read it to her little cousins as well as the kids she volunteers with through Reading Partners, a nonprofit that provides personalized 1:1 reading support for elementary aged children.

Think Katie is as incredible as we do and want to stay in touch? Schedule office hours with her and/or follow her on LinkedIn!
Here's to finding your own path ✨
Jeff & Michelle @ APM Map
---
🗺️ If you're loving APM Map and want to support us, please feel free to share the website (apmmap.co) and/or this newsletter, or buy us a coffee. If you have any questions about APM Map or APM Recruiting, DM Michelle on Twitter!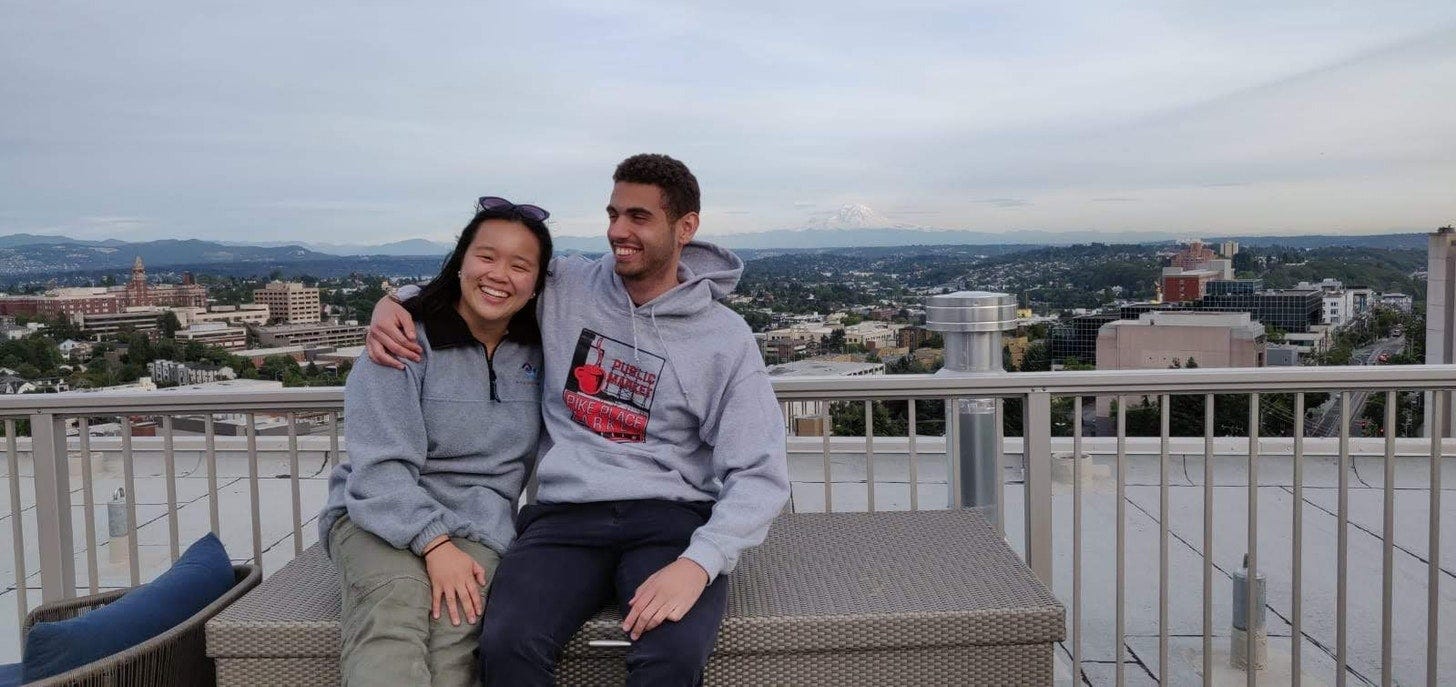 Hey! We're Jeff & Michelle — the creators behind APM Map, and we're rooting for you this recruiting season. If you want to check out our other side projects, Jeff writes about navigating life as a first-gen college graduate @ Second Gen & Michelle writes about the intersection of tech + self care / community care / structural care @ Tech Care. Thanks for joining us on our journey :')