APM Map 🗺️ Issue #3: On finding yourself ...
and your dream APM job along the way
APM Map 🗺️ is your one-stop destination for navigating your APM recruiting journey. The site is live at apmmap.co, and the APM Map newsletter will run weekly this fall, spotlighting incredible APM recruiting resources & mentors along the way.
In today's issue:
Mindfulness by Mima (a.k.a me): On rejection & resilience

The Journey: Finding yourself (& APM Programs)

Mima's Thought Philosophy

Featured Resources

Sneak Peak: Coming Weeks
If you've recently joined the APM Map Community from this post last week or this post back in May, welcome! We are so happy to have you here ☺️ If you want to check out past issues, you can find all of them here.

Hey friends - hope you have been taking lots of care ❤️
I'm not going to lie, when we publicly launched APM Map this past Thursday, I thought that was going to be the craziest thing to happen that night. Boy, was I wrong.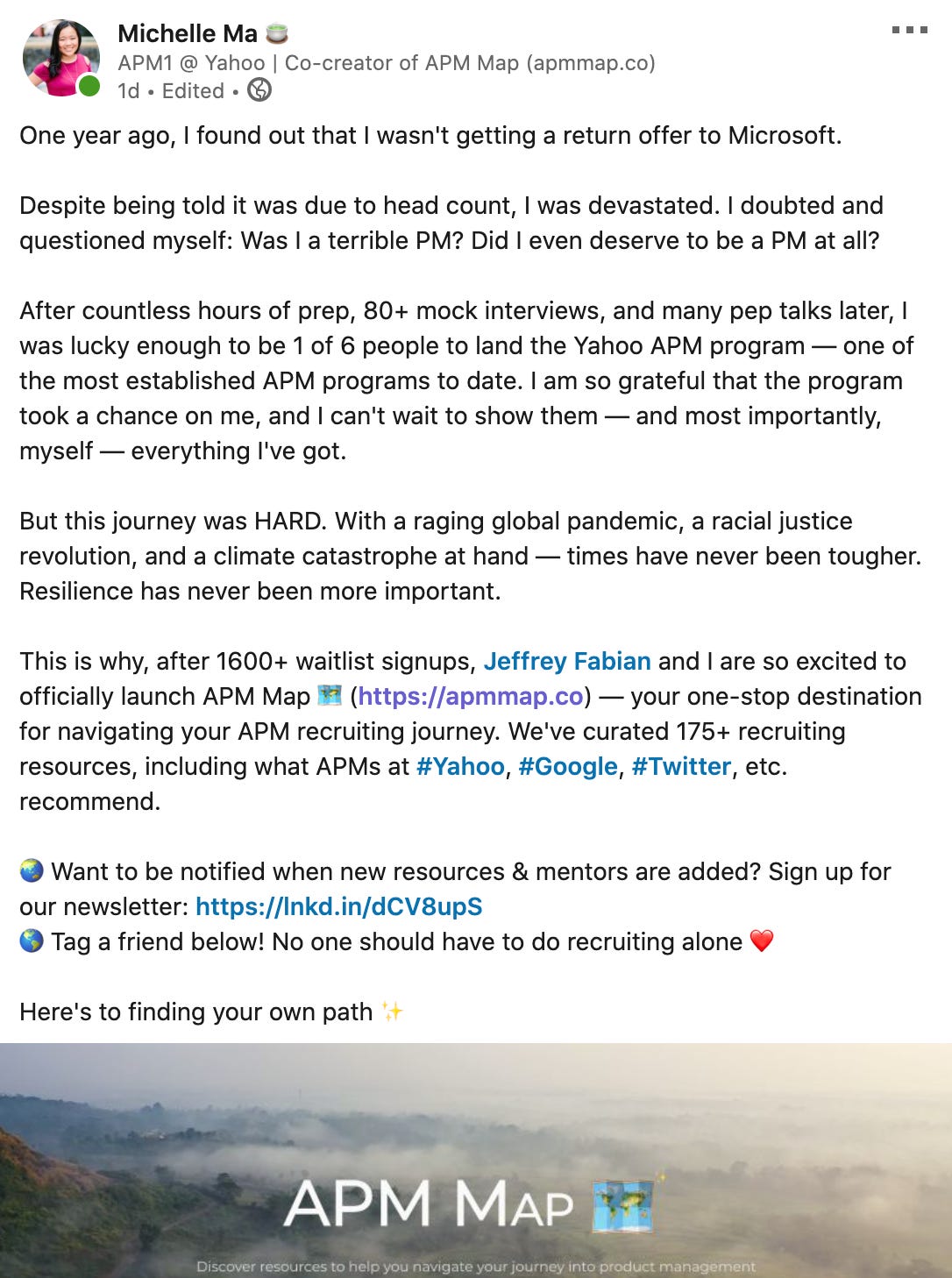 But if anything, it should be a testament of hope. So much can change in a day, let alone a week, let alone a year. Whether it be good or bad change, you will get through it. I promise.
Case in point: one year ago, I was navigating the road to APM recruiting without a return offer to one of the biggest tech companies around today. It shouldn't have been such a big deal, yet it was. I remember feeling embarrassed and ashamed, and I seriously questioned if I deserved to be a PM at all. On top of this, the road to APM recruiting was brutal. I did over 80 mock interviews (some were at 8AM on a Saturday … my apartment mates can attest), got auto-rejected from my top APM program, and made it through 7 rounds of interviews at Google before getting rejected in the Exec VP round … four days before my 22nd birthday.
However, a year later, things could not be more different. For starters, I am back in my childhood bedroom instead of living in SF 😂. Just last week, I shipped my first feature at work in the Data Privacy & Policy space, which will protect millions of users that use our products. Outside of work, I helped bring APM Map to life with my best friend, Jeff, and we now have 2000+ users and readers of this newsletter. Along the way, I've made so many amazing & inspiring friends in the APM world, and am so excited to see what they do next. Although there are many other things that have saddened and angered me this year, taking time to acknowledge how far I've come has been so, incredibly grounding.
Finally, I leave with you the wisdom of my good friend, Jessica Cheng. When I first found out about Microsoft, I went to Jessica with tears streaming down my face, and she immediately took me on the first shuttle to Bellevue Square, where we got dinner. Over dinner, she listened to me talk through my fears and anxiety moving forward, and when I was done, she looked me in the eye and told me that things will work out in the end. And by the end, she didn't necessarily mean by the end of my internship, or even the end of my upcoming recruiting season. Ultimately, you get to decide what "the end" looks like for you. Today, I have reached my end — but in many ways, this is just the beginning.
I share all of this to make one thing very clear: You are not alone. If you resonate with any of my journey above, just know that I am with you, as are many others who may be silently going through the same cycles of rejection, and on the path towards resilience. Last year, I read Caitlin Stanton's article on not getting a return offer and was so empowered by her speaking her truth, but too scared to speak mine. I am finally brave enough to speak my truth, and hope that it gives you the comfort that you, like me, will find your path. And if you're lucky, you'll find your Jessica along the way too. ❤️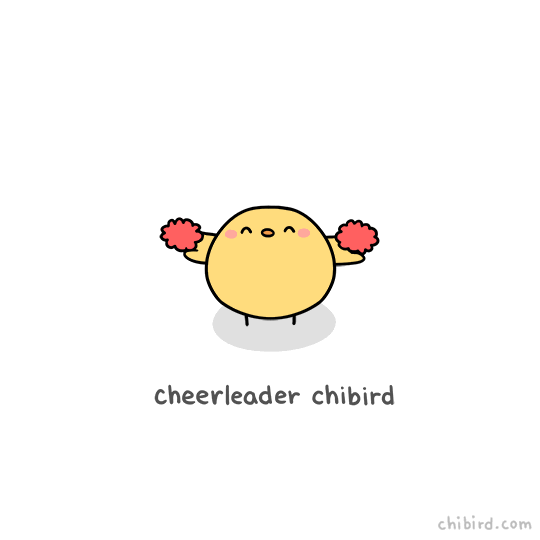 If you want to chat more about rejection & resilience, or need a pep talk before that big upcoming interview, DM me on Twitter! I got you ☺️
🌏 The Journey: Finding yourself (& APM Programs)

Ok, don't laugh but, I think the key to finding the right job has a lot to do with finding yourself first.
When I was interning at Microsoft, I was working on Xbox Game Pass — quite possibly one of the coolest products to be working on at Microsoft. Yet, every day I went to work, I felt like I was living someone else's dream job. As someone who had spent the past couple years thinking about tech ethics and tech for social good, it felt really off to spend 8 hours every day thinking about optimizing notifications so that more people would spend time in a mobile app. This is not to say this was a bad job — I met some incredible people at Microsoft that I am grateful for every day, and still carry a lot of lessons learned into my work as a PM today. However, working in the Gaming industry was not for me. In many ways, this experience helped make that very clear for me, but I also wish I had thought about the space I wanted to work in deeper, before accepting an offer with a shiny Microsoft logo.
Now, at Yahoo (Verizon Media), I get to work on products that touch upon pressing problems like data privacy & policy, as well as ethical personalization. These problems are exactly the kind of tech x ethics questions that I've thought deeply about these past couple of years, and society at large is grappling with currently as well (more critical thoughts on the documentary … but that's a convo for another time). In many ways, I got very lucky because I got placed on this team by the Yahoo APM program (thank you, Yahoo APM steering committee gods). But now, I wake up excited to walk the 5 feet to my desk every day, and that's something to celebrate.
So, the burning question is: how do I find myself?
💡 Mima's Thought Philosophy
Cast your net wide, but know what you're fishing for 🐠. Unfortunately, the demand for APM roles is > the supply of APM jobs (there are roughly about ~30-40 APM programs out there, and each program hires on average about ~10 APMs — this number is likely even smaller this year due to COVID/hiring freezes). So with this in mind, it's recommended that you apply to as many APM programs as possible, so you can maximize your chances of breaking into product. With this being said, …

Don't lose sight of your North Star ⭐. To find your North Star when it comes to jobs/APM Programs, start by asking yourself these questions:

What sorts of problems/products do you want to work on? Are you really passionate about building next-gen AR/VR experiences? Do you want to work on building solutions that protect user data & privacy?

Where do you want to build domain knowledge? For me, I've realized that I want to build domain knowledge in the Tech Law & Policy space, while also building technical expertise in AI/ML (and specifically, how we can leverage AI/ML to scale solutions that protect user data). This question is a bit harder to answer before you've started working, but you can reflect on what sorts of activities + classes you were drawn to in college, or if there was a common theme in the side projects you may have worked on.

Focus more on shaping your dream life, and less on finding your dream job 🏙️. The first job you land out of college likely won't be your last. What do you want your story to be when it comes to your career, and how might your first job get you closer to that narrative? This will look different for everyone, but it's important to frame this question this way to restore agency to yourself.
Answering some of the questions above will not only help you shape your own career path, but will also help you a lot with navigating Behavioral Interviews. More on this in the next couple of weeks, but wanted to connect those dots now.
📚 Featured Resources
🤫 Sneak Peek: Coming Weeks
In the next few weeks, here are a couple things to expect:
Mentor Spotlights — learn what our amazing APM Map Mentors are working on and thinking about, and get a chance to submit your questions for them!

Community Partners — APM Map is working on building some partnerships with other existing interview prep resources, and we'll send more exclusive content, discounts & freebies your way!

Mentorship for Good — the APM Map team is preparing to offer resume reviews, coffee chats, and/or mock interviews to raise $$ for causes we care about. More details on this soon!
Here's to finding your own path ✨
Jeff & Michelle @ APM Map
---
🗺️ If you're loving APM Map and want to support us, please feel free to share the website (apmmap.co) and/or this newsletter, or buy us a coffee. If you have any questions about APM Map or APM Recruiting, DM Michelle on Twitter! She'll try to respond in the new few days. :)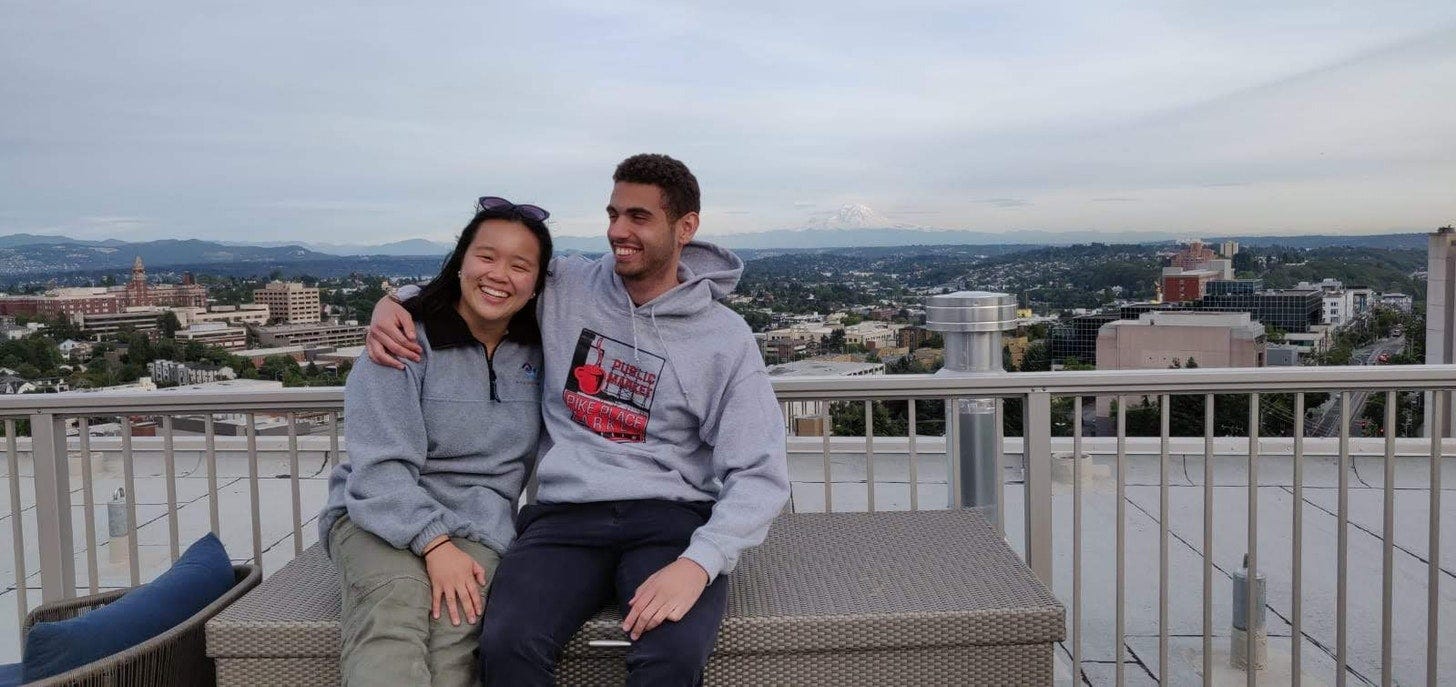 Hey! We're Jeff & Michelle — the creators behind APM Map, and we're rooting for you this recruiting season. If you want to check out our other side projects, Jeff also writes about navigating life as a first-gen college graduate @ Second Gen & Michelle also writes about the intersection of tech + self/community/structural care @ Tech Care. Take care 🌿