APM Map 🗺️ Special: Product Hunt Edition ✨
We're going live for 24 hrs. on Product Hunt today - it would mean the WORLD 🌏 to us if you checked it out!
APM Map 🗺️ is your one-stop destination for navigating your APM recruiting journey. The site is *live* at apmmap.co, and the APM Map newsletter will run weekly this fall, spotlighting incredible APM recruiting resources & mentors along the way.
Today, we are going LIVE on Product Hunt, and it would mean the absolute world to us if you checked out our launch page, and if you're feeling it, show us some ❤️ by 11:59pm PST tonight (!!). If you have any questions / feedback for us, drop them in the comments! Jeff & I will be doing a Q&A in the comments section all day ☺️

Hey friends - hope you have been taking lots of care ❤️
It has been an insane & incredible past couple of months.
One year ago, I was knee-deep in interview prep, grinding out mock interviews left and right, and trying to stay on the path of resilience in the face of rejection. It was hard, stressful, and some of the toughest months of my life.
Five months ago, as I started preparing to start my first job out of college as an Associate Product Manager at Yahoo (Verizon Media), I found myself reflecting on the many struggles of my recruiting season. I took an hour one afternoon and just brain-dumped every resource I had used while recruiting into the spreadsheet below. After sharing this crazy idea with my partner, Jeff, he joined me on this journey without a second thought, and lent his incredible Engineering expertise to transform this *very rough* spreadsheet into …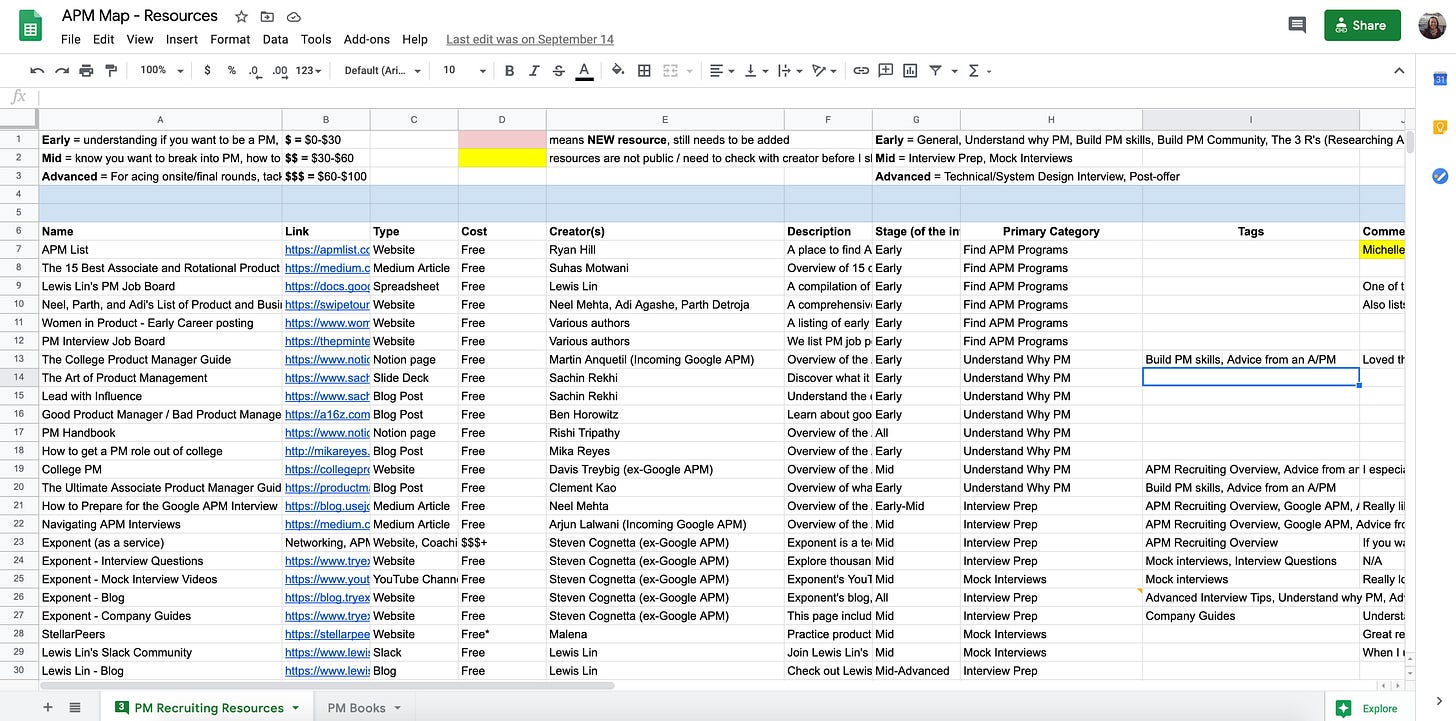 … the beautiful website that you see today 🥺. Yes, I'm obsessed with his animation skills too.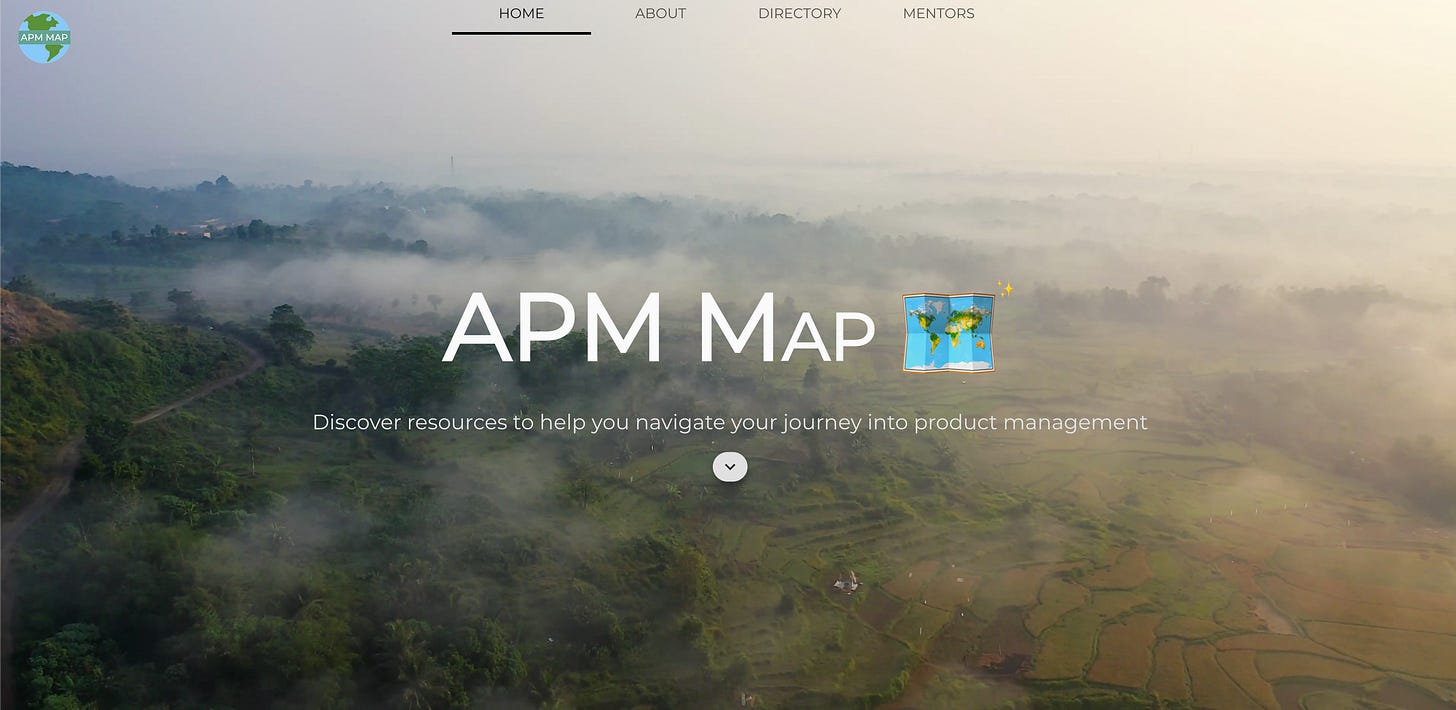 Two months ago, I shared APM Map in public for the first time ever with our waitlist launch. Before I hit "post" for the first time, I remember my heart was racing at 1000 beats per minute. What if everyone thought this was a bad idea? What if we got zero signups? I have no idea what it means to be a "co-founder" — what if I mess this all up?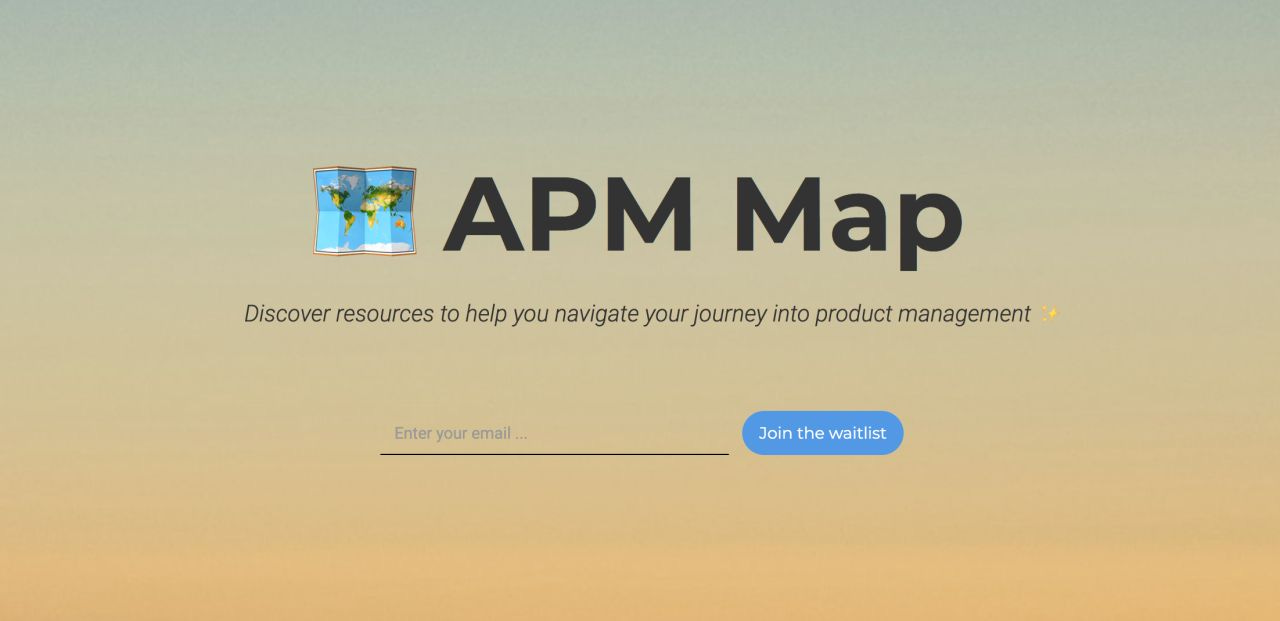 Today, we are officially going live on Product Hunt….and it is absolutely surreal. I am beyond grateful that this newsletter now has 2100+ subscribers who put up with all of my chibird gifs every week, that we have 30 (!!) amazing APM Map mentors who are willing to share their wisdom with the APM Map Community, and the countless number of people who have reached out to me with love & support, as well as vulnerability about their own experiences of rejection & resilience. This community is so beautiful & strong, and I am so honored to be able to be a part of your journey. Thank you for being a part of ours as well :') (and don't worry! We still have multiple issues of the APM Map newsletter left — we'll be here for many weeks to come ☺️)
If APM Map has helped you in your journey, it would mean the world 🌏 to us if you checked out our Product Hunt launch. If you're feeling it, we would love for you to show us some ❤️ before 11:59pm PST tonight (and if you have any questions for us, feel free to drop them in the comments section! We'll get back to you ASAP, we promise!)
One more thing before you go …
Lately, you may have seen hashtags like "#EndSARS" trending on your social media. In case you're not familiar with the movement to end police brutality in Nigeria, this Daily Show segment does a great job of covering the issue:
Wondering how you can support the movement to #EndSARS? Check out:
Here's to finding your own path ✨
Jeff & Michelle @ APM Map
---
🗺️ If you're loving APM Map and want to support us, please feel free to share the website (apmmap.co) and/or this newsletter, or buy us a coffee. If you have any questions about APM Map or APM Recruiting, DM Michelle on Twitter!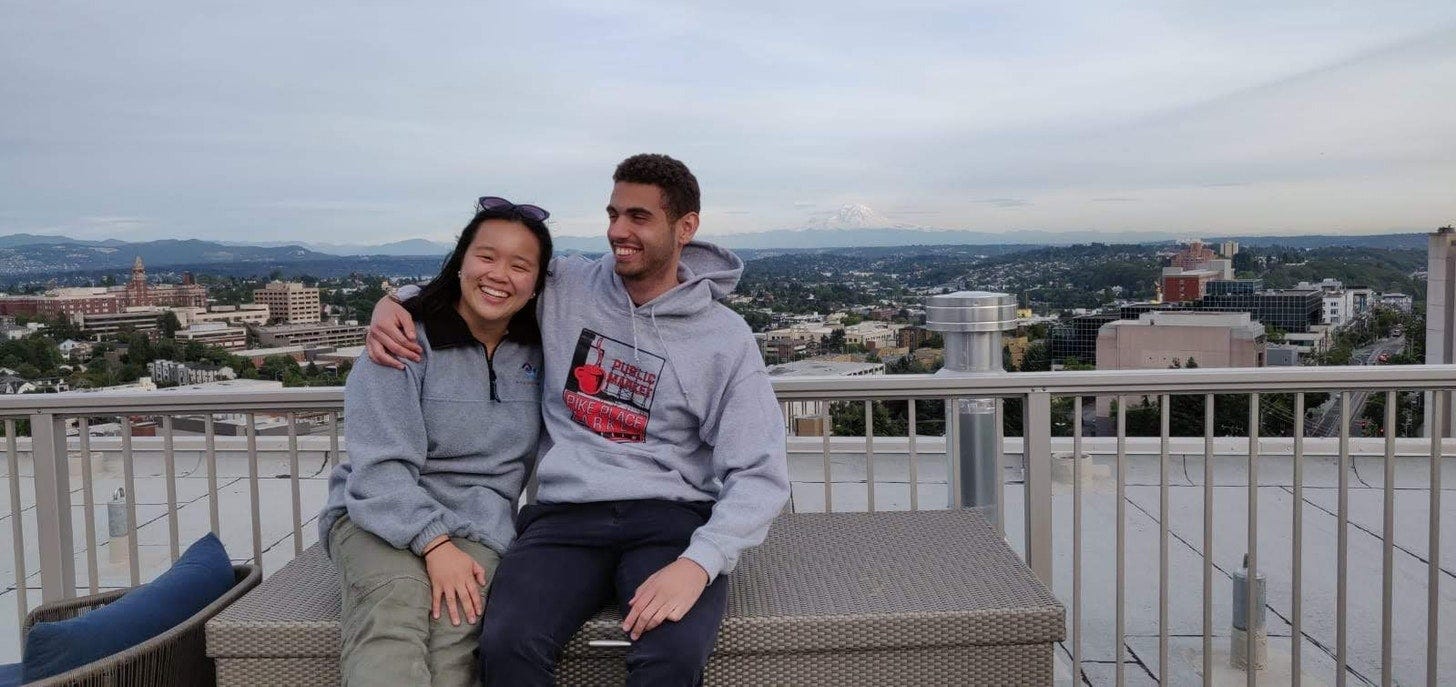 Hey! We're Jeff & Michelle — the creators behind APM Map, and we're rooting for you this recruiting season. If you want to check out our other side projects, Jeff writes about navigating life as a first-gen college graduate @ Second Gen & Michelle writes about the intersection of tech + self care / community care / structural care @ Tech Care. Thanks for joining us on our journey. :')